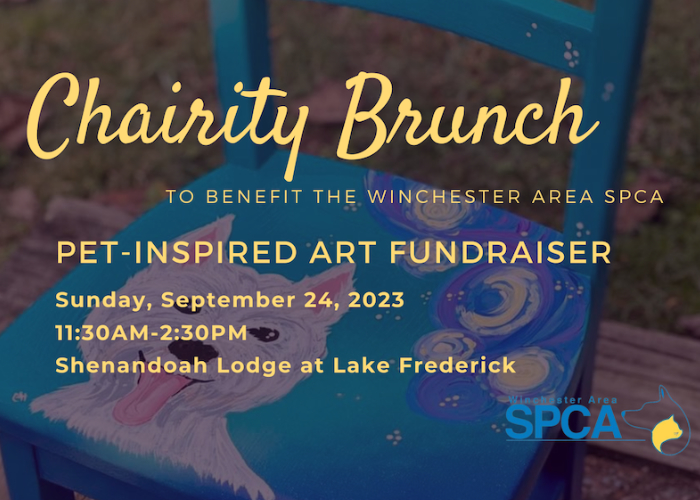 WASPCA Chairity Brunch
The Winchester Area SPCA annual Chairity Brunch combines a love for animals with an appreciation of art to raise funds for the local no-kill animal shelter.
There will be an expanded art exhibit at this year's event. While the traditional framed "Pawcassos" created with the paw prints of shelter pets will still be featured, there will be handspun pottery, handcrafted beaded jewelry, floral arrangements, and a little 'nose print' art too!  As always, the chairs upcycled by local artists and turned into one-of-a-kind, pet-inspired works of art will headline the show!
This year's Chairity Brunch will be held at the Shenandoah Events Center. The Shenandoah Lodge is in the heart of the Shenandoah Valley, and perched atop 900 acres of woodland beauty, and overlooks beautiful Lake Frederick, with views of the Blue Ridge Mountains.  A purrfect back drop for this event.
For your dining pleasure, event goers will enjoy a brunch buffet prepared by Regions 117. Skillet eggs, home fried potatoes, thick cut applewood bacon, maple sage sausage, seasonal fruits, ginger glazed beignets, and apple cider donuts will be available. There will also be a Mimosa Bar for those who enjoy a little champagne with brunch.  Stronger spirits will be available for purchase as the restaurant bar will be open.
Don't forget the games! The part of the event that gives everyone the giggles are the games! Adult musical chairs never disappoints. At least one new game will be added this year, a little "Heads and Tails" to get the crowded excited.  You won't want to miss your chance to pay to play for a special prize!
Most importantly, the Chairity Brunch is the WASPCA's largest annual fundraising event.  Thanks to the generosity of sponsors, 100% of proceeds benefit the pets served through the WASPCA.  Help us save the lives animals. Buy your ticket today.
Bare "Bones" – Basic Ticket $35
What a deal! Support local artists and your local SPCA with the purchase of a bare bones ticket! As the name suggests, this ticket is for the animal or art lover that likes to keep it simple. Basic ticket holders will get one door prize ticket and a ticket to enjoy one Mimosa which pairs purrfectly with the Shenandoah Lodge brunch buffet.
The Cat's Meow – Premium Ticket $50
Treat yourself! Let everyone know you are the Cat's Meow! This ticket is for the animal or art lover who embraces a little luxury. Premium ticket holders will get 5 door prize tickets and two Mimosas which will pair purrfectly with the Shenandoah Lodge brunch buffet.
Leader of the Pack – VIP Table for 8 $500
Sit with your pack!  Charge them or treat them, your choice. The VIP experience is a reserved table for eight (8). Each pack member will get a stemless champagne flute, 10 door prize tickets, and a VIP button that will allow them access to bottomless mimosas which are paired purrfectly with the Shenandoah Lodge brunch buffet.
Event Registration