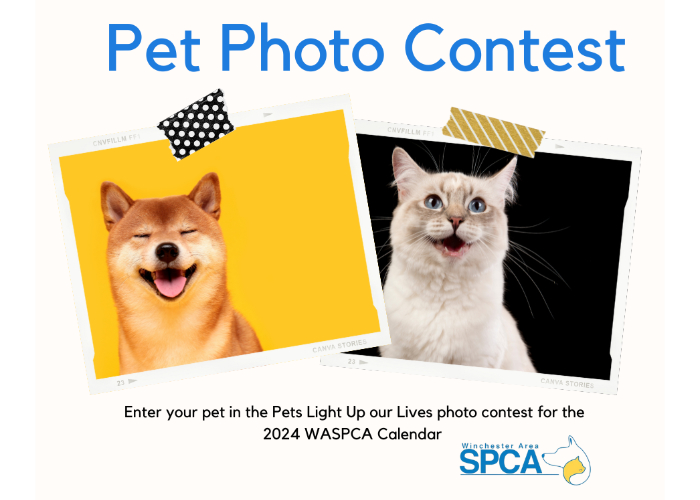 Pets Light Up Our Lives Photo Contest
ALL PET TYPES ELIGIBLE
OFFICIAL CONTEST RULES
DEADLINE: MONDAY, SEPTEMBER 18, 2023, 5:30PM (EST)
LIMIT: One Entry Per Pet
ENTRY FEE: $20
REQUIREMENTS:
Photos must be an unaltered color high-resolution digital photos in a JPG FILE FORMAT.
Photos should be at least 2MB and no larger than 10MB. ONLY DIGITAL PHOTOS WILL BE ACCEPTED.
Photos must be in a WIDE HORIZONTAL/LANDSCAPE COMPOSITION. Please do not submit tall vertical/portrait photos.
Photos may not include people.
Photos should show one pet only. Please do not submit photos that contain multiple animals.
Please title your photo with your last name followed by your pet's name: lastname_petname.jpg
You may submit multiple entries. Entries are $20 each.
JUDGING:
A volunteer panel of judges from Winchester Area SPCA will review all photos and, in their sole discretion, select winning photos on originality, artistic merit and technique. The odds of winning will depend on the number of total entries. Those on the judging panel will not be affiliated with any pets being considered for the calendar.
13 winners will each be awarded 1 custom photo mug ($10 value) of their winning entry and two 2024 calendars. One "Cover Photo" winner will be featured on the front cover, will receive an additional two 2024 calendars and a professional photo session ($200 value) with JGaylor Studio.
WINNERS WILL BE ANNOUNCED ON MONDAY, OCTOBER 2, 2023.
By submitting an entry into the 2024 Winchester Area SPCA Pets Light Up our Lives Calendar Contest, you agree to abide by the official contest rules. You attest that your entry is an original photograph owned by you. You retain the rights to your photograph but grant the Winchester Area SPCA the use of the photo in marketing and publicity materials, newsletters, and all other media, including social media, without compensation. The Winchester Area SPCA reserves the right to disqualify entries that do not meet contest criteria or that may be viewed as inappropriate or objectionable. Winning entries will be showcased in the Pets Light Up our Lives 2024 twelve-month calendar and may be displayed on the Winchester Area SPCA campus or at events that benefit the Winchester Area SPCA. Information provided in this form is for contest entry only for the purpose of contacting winners and will not be shared with third party vendors.