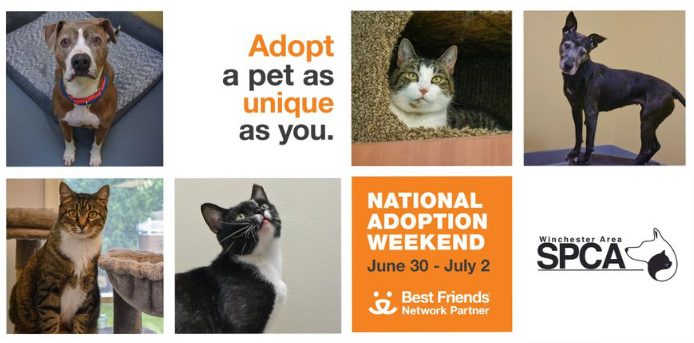 National Adoption Weekend
The Winchester Area SPCA is partnering with Best Friends Animal Society to offer reduced Adoption Fees June 30-July 2
Winchester, VA (June 27, 2023) The Winchester Area SPCA (WASPCA) is partnering with Best Friends Animal Society, a leading animal welfare organization working to end the killing of cats and dogs in shelters by 2025, for the fifth National Adoption Weekend happening June 30-July 2.
Joining forces with our national animal welfare partners allows our local shelter to reduce our fees to make pet rescue affordable to all. This is done to highlight the importance of pet adoption and save lives. Each time a pet is adopted, another homeless pet can be saved, "said Lavenda Denney, WASPCA Executive Director.
The WASPCA Adoption Center located at 111 Featherbed Lane in Winchester, VA. The center is open for visitors Friday, June 30th 10am-6pm and Saturday and Sunday, July 1st and 2nd 12-5pm by appointment. Adoption fees will be reduced to just $45. All adoptable pets are neutered, vaccinated, microchipped, and ready to go to their new home. For additional information email spca@winchesterspca.org.
Recent data released by Best Friends showed that in 2022, 57% of shelters in the U.S. were no-kill, but 378,000 dogs and cats were killed nationally largely due to a continued decrease in dog adoptions compared to pre-pandemic rates.
Shelters across the country are experiencing an increase in animal populations and adoption rates aren't keeping pace, resulting in overflowing kennels. That's why Best Friends Animal Society, and nearly 600 shelter and rescue partners have joined together for the national event. By adopting a unique and loveable shelter pet, two lives are saved – that of the adopted cat or dog, and another that can now take their space in the shelter.
"We are excited to host our fifth National Adoption Weekend, encouraging the community to add a new pet to their home this summer," said Julie Castle, CEO, Best Friends Animal Society. "These warmer months can see some of the highest intakes in shelters, so it's critical the shelter staff and volunteers have the support they need from the community. If you can, please adopt and foster. And if you already have pets, make sure they're microchipped and spayed/neutered."
At a time when so many shelters across the country are short-staffed and well over capacity, individuals can help save lives by choosing to adopt a deserving pet from a shelter or rescue group instead of purchasing from a breeder or store. If you can't add to your family right now, you can still help by spaying or neutering your pets, fostering kittens or an adult dog, volunteering, donating, and advocating for proven lifesaving programming for local pets.
To learn more about your local animal shelter and life saving efforts, visit winchesterspca.org.